W.O.M.E.N.: "WOMEN ON THE MOVE ENCOURAGING & NURTURING"
1 Peter 3:3-4 "Your beauty should not come from outward adornment…… Instead, it should be that of your inner self, the unfading beauty of a gentle and quiet spirit, which is of great worth in God's sight."
MISSION STATEMENT:
We strive as Christian women, in service to the Lord, to be obedient to his Word. We represent a unified body of "W.O.M.E.N – Women on the Move, Encouraging & Nurturing" by providing spiritual guidance and support through prayer, fellowship, and sharing life experiences and successes. By the Grace of God, we resolve to enable women to discover their purpose, find peace, and their inner beauty.  To gain spiritual, mental, emotional, and physical strength "to be better women, friends, daughters, sisters, wives, mothers, and grandmothers." To God Be the Glory!
Who We Are:
The Women's Ministry of Cornerstone Baptist Church incorporates the W.I.F.E – Worship, Instruction, Fellowship, and Evangelism principle in all aspects of the ministry.  Our prayer is,  when you take part in a Women's Ministry activity, that it is an experience with God. We are here to connect and grow with each other so that we may be better Kingdom servants.
CONTACT US:
women@cornerstonechurchofyork.com
2023 Scripture & Theme:  
2 Timothy 1:7
"Women Warriors Moving Fearlessly with Christ"
CLICK to view or download our 2023 Ministry Brochure.
MONTHLY MEETINGS
Our meetings are held virtually on the 2nd Tuesday of every month (except July & December) at 6:00 pm.
Zoom Invitation:
https://us06web.zoom.us/j/86529095265
Meeting ID: 865 2909 5265
Password:  CBC
VIRTUAL BIBLE STUDY GROUP
Meets every 3rd Saturday at 9:00 AM.
Zoom Invitation:
https://us06web.zoom.us/j/86529095265
Meeting ID: 865 2909 5265
Password:  CBC
The group is OPEN TO ALL!
Topic:  "Women of the Bible"
Each month we will explore a new story featuring a woman of the bible.
Upcoming Bible Study Sessions
2023
January 21 – Eunice & Lois, Hosted by Deacon Twilah Shipley
February 18 – Lydia, Hosted by Rev. Barbara Rowlette
March 18 – Jael, Hosted by First Lady Vlonda Kearse
April 15 – Delilah, Hosted by Sis. Michelle Thomas
May – No Session (Women's Weekend)
June 17 – Wisdom, Hosted by First Lady Vlonda Kearse
July/August – No Session (Summer Break)
September 16, October, 21, & November 18 – War Room, Hosted by Sis. Michelle Thomas
December – No Session (Advent)
2022
September ~ Abigail, Hosted by Rev. Cynthia L. Layton
October ~ Woman at the Well, Hosted by Min. Monica Isaac
November ~ Ruth, Hosted by Rev. Stephanie Anderson-Meynard
December ~ Holiday Break
NEW EXPERIENCES!

REGISTRATION IS NOW CLOSED
Craft Night "DIY" Holiday Door Hangers
Friday, December 1, 6:30 pm
Coster $15.00 pp
Includes:  All materials, and refreshments
No craft experience is needed.  Join us for the fellowship.
PAST EXPERIENCES
October 1, 2023 – 11:30 AM
We are wearing Pink to bring awareness to breast cancer.
100 Women in White Breast Cancer Awareness Service
October 6, 2023 – 7:00 pm
Guest Speaker:  Rev. Kim Miller
Musical Guest:  Fairview Full Gospel Baptist Church Praise & Worship Team
WOMEN'S WEEKEND  – The CBC Women's Ministry is excited to announce our Women's Weekend 2023 plans.  We pray that you will be able to join us for a weekend of fellowship, encouragement, and sisterly love.
Let's get "Well" together (mind, body, and spirit)!  All are welcome! Please share with family and friends.
Saturday, May 20 – 10 am to 1 pm
Wellness Fair – "Getting Fit for Battle"
Where:  CBC Fellowship Hall
No Registration Fee!
Guest Presenter:  Dr. Monifa Jones
Healthy Tips
Light Exercise
Light Breakfast / Healthy Lunch
Fun Interactive Activities
Door Prizes
WellSpan Mammography Van On-Site at the Wellness Fair
The screening is quick, 15 to 20 minutes for each appointment.
Preventive screenings help to keep us "A Healthy Step Ahead."
Please share this information. It's all about early detection.
Women's Day
Rev. Barbara Rowlett will be our speaker for the day!
Attire: We are asking everyone to wear any shade of purple with white and/or silver.
Women's Day Choir
We need your voice to help us make a joyful noise unto the Lord!
Rehearsal Dates:  Thursdays at 6 pm, May 4, 11 & 18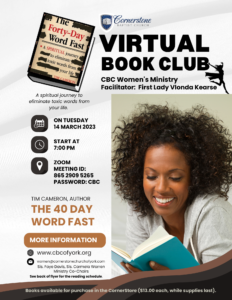 The last session was held on Tuesday, April 11 at 7 pm.
Zoom Invitation:
https://us06web.zoom.us/j/86529095265
Meeting ID: 865 2909 5265
Password:  CBC
Click HERE for the reading schedule.
Friday, March 31 | 6:30 pm
Where: CBC Fellowship Hall
Ladies, come and share what is on your mind in a safe space. Let's talk and sip our tea as we uplift, encourage, and heal through conversation. Please bring a covered dish to share. Drinks provided.
Black History Moment Presentation
You're invited to join us on Sunday, February 19 @ 11:30 for an "Ole School Sunday Worship Service."  The Women's Ministry is encouraging all the ladies to wear hats and gloves for a very special Black History Moment.  Let's represent the time when hats and gloves were worn to give honor to God and to show your personal style. Wear your crown proudly on February 19 as the Women's Ministry takes us back to the church of old.
Go Red for Women's Heart Health!
We are wearing red on February 5 to encourage awareness of women's No. 1 killer – cardiovascular disease. Together, we can be the BIG difference for a better life for women everywhere.