KINGDOM MEN
Roman 12:10 – "Be devoted to one another in love. Honor one another above yourselves."
MISSION STATEMENT:
We seek to empower, teach, fellowship, and be faithful men of God. The Men's Ministry is to focus on serving God and the leadership of Cornerstone Baptist Church. Our goal is to be better husbands, and better fathers and to be the spiritual leader in our homes. We vow to follow Biblical principles by having loving marriages and loving families. As iron sharpens iron, the men are committed to strengthening each other, praying for one another, encouraging one another, and being positive Christian role models for our young men and boys.
KINGDOM MEN'S WEEKEND
November 12 & 13, 2022
"Changing the Narrative!" CLICK TO REGISTER TODAY! (REGISTRATION IS NOW CLOSED.)
Join us for Sunday Worship at 11:30 am in-person or LIVE Streaming on Facebook.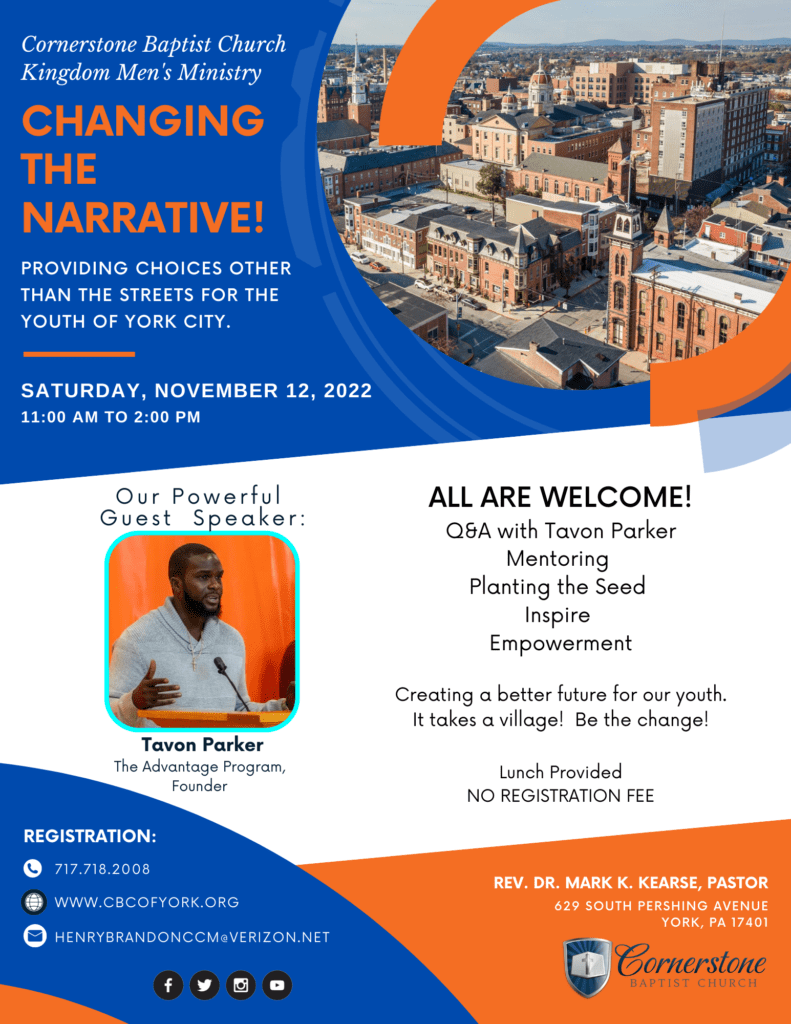 SCHOOL UNIFORM DRIVE
NOVEMBER 1 – NOVEMBER 30
The York City School District (McKinley & Jackson Elementary) needs BOYS' uniform polo shirts for grades 5 to 8.
Sizes: small, medium, large, and extra large
Colors: solid white and any shade of solid blue
Donations can be placed in the designated box located in the lounge. For more information, please see Bro. Henry Brandon or email henrybrandonccm@gmail.com.
CONTACT